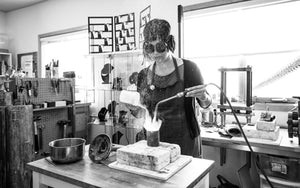 the aim is simplicity
Life is busy and we know what it's like to be rushing out of the house with your bowl of granola and your child's lunchbox in one hand and your business folders and to go mug in the other, without your jewelry on because you couldn't decide what matched! That's where we come in. We want to help you streamline and simplify your life so you can focus on your big goals. That's why we create jewelry that you can wear all day, everyday.
You'll find that our style adaptive jewelry designs are just as easy to wear with your jeans and favorite T-shirt as they are for your important business meeting, parent-teacher intereviews or a night out. After you put it on and don't have to think about it again. Lightweight, versatile and so comfortable to wear, you forget you have it on. Made to last, made by hand and made with love.
Behind the scenes
Crafted in small batches by our team with integrity, attention to detail and decades of collective experience in the industry, every one of our pieces is made to last by our female founded and powered small business. Each trained member of our team is a graduate of the Alberta University of the Arts and specialized in the area of Jewelry and Metalsmithing during their course of study. Our company is rooted in practical and traditional handskills while taking a creative approach to art of jewelry making. And we do believe it's an art.
Since our establishment in 2003 we estimate that more than 10,000 pairs of earrings and hundreds of necklaces and bracelets have gone out into the world adorning our patrons from all corners of the globe. You can feel good supporting our small business knowing that we are rooted in original ideas, community building and an ethical approach to making.
Background + Inspiration
Being a style enthusiast, but never one to follow fashion trends, I could never find the kind of jewelry I wanted to wear, so I started making it. That was when I was eleven. Soon enough all my pals in the schoolyard were adorned with all kinds of beaded lovelies. However, I had no idea that this could be a career path.
Fast forward 10 years. While I was taking my gap year (which turned into 5!) I had a pretty serious snowboarding accident. It wasn't a life threatening event as much as it was a life changing one. While in recovery, I decieded to sign up for a jewelry making class and I've never looked back. It was love at first make and that was (gulp) thirty years ago.
Every day I am amazed by some aspect of my job and thanks to you I get to create beautiful and long lasting pieces that I hope are meaningful and make a differnce in your life. I've always loved the stories jewelery has the capacity to hold and might it be that my pieces can hold yours. The intention is always for my jewelry to be well designed and crafted, and so versatile and comfortable that they are as easy to wear in the backcountry as they are at the country club.
Inspirations come largelny from shapes and patterns in nature as well as contemporary architectural details, which are then distilled down to the essentials. My design process is informed by continuous line drawings, minimalist aesthetics and modern sculpture. Whether it is a custom design or something from my collections, find your staple accessories here that will help to simplify your life.
- Kari Woo
Less is definitely more.
Style adaptive, versatile and so comfortable to wear, many of our customers claim that they never have to take their jewelry off or that our designs are the only ones they wear. Made only of quality materials such as sterling silver and solid 14kt gold, our pieces are made to last. No more obsessing over trendy, disposable accessories with time that you don't have - these pieces are trusted daily companions and here to stay.